New Year New Look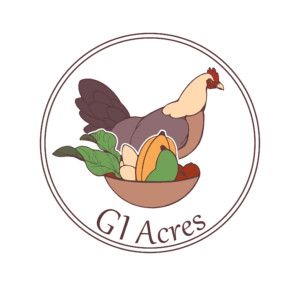 We have a new logo thanks to our niece Katie's brother-in-law, Douglas.  We are excited about the new year and we are starting to order seeds and get prepared for the new year.
Check out the CSA Page to see what changes we have made to our membership structure.
We are offering full shares to last year's members first we won't have any new memberships available if they all renew.  If you would like to be on the waiting list for a full share send me and email at chadn1@grandislandacres.com and I will add you to the list.
We are also offering a short season CSA share between July and August.  We will have 6 of those available this year.
.
Well we made it to 19 weeks of shares.  Thank you to all of our members and to everyone else that has helped and support us.  It was a very good year.  The last share included:  greens, potatoes, sweet potatoes, onions, peppers, tomatoes, winter squash, eggplant, basil, and mint.
The pictures of the share this week also include some of the garden at this end of the season.
I am writing this post a week after the share on the 27th of October.  We just had our first hard freeze last night. We picked the peppers, eggplant, tomatoes (red and green) and all of the basil and lemon grass over the last two days.  I just started about 2 gallons of sliced peppers fermenting.  We should have plenty of spicy pickled pepper rings for the winter.
This year we did not have good luck with Brussels Sprouts.  It is the third year we have tried them and we have not picked any yet.  The broccoli romanesco  also did not really produce.  We did not have any to share with members but did get a few small sprouts in the last few weeks.  If the weather holds maybe we will get something from them.  Growing sweet potatoes in big pots was a really good idea.  They produced fairly well and I know that I was able to find all of them when I emptied the pot.  I will do that again next year.
Both the summer and winter squashes did very well this year.  I'm not sure we will waste the space on sweet corn next year.  It just didn't produce as much as I would like and I wasn't happy with the quality.  Many others do it much better than we do so maybe we will save the garden space for something else.  I think we planted the right amount of potatoes.  We had them for several shares during the year and we have some for us as well.
It is time to get out and plant garlic so we will have it again next year.  We also have walking onions that have been added as perennial.  We have 1 more cherry tree, 2 plums and 2 pears that were added this season. My Dad (Richard) transplanted a couple more peach trees; we will see if they survive.
One of the best things we had this year was dill.  My Dad planted a bunch of dill seed back by the bees and wild flowers.  It did very well there and we weren't sure what we were going to do with it all.  We included it in shares to our members but were also able to sell almost $100 worth to Hy-Vee.  Next year we may plant more and space it out so we have it for a longer period and fresh green dill during pickling season.
The early cabbages were a big hit and we will do them again.  We cut them off and they grew little ones that were ready for fall shares.  The fielderkraut did not produce enough to share but I used it to make sauerkraut (that should be about done fermenting).
We planted 21 varieties of tomatoes and I think I took pictures of all of those for a different post.  Of all of those tomatoes the only ones I wouldn't grow again are the green verisage and the atomic grape.  All of the others were good producers and worth the time and effort.  We used landscape cloth under the tomatoes and peppers this year.  I don't know if I will ever plant them without landscape cloth again.  It was a huge labor saver in terms of time spent weeding.  They took a little longer to plant but it was well worth it.  I have already purchased landscape cloth for next year and am trying to figure out how to use it between row crops.  It was that good for our little operation.
We still have the one active beehive.  Hopefully they will overwinter well.  We have 12 hens and 6 rabbits as well.  We have found local suppliers for beef, pork and lamb.  If you are looking for local meats let me know and I can put you in touch with some great suppliers.  It is really amazing how good meat can taste compared to what you get in the store.  I still buy some at the store, the prices can be hard to beat but I also want to support our smaller local farms.  They spend their money right here in Grand Island and benefit the whole community.
Our plan is to continue with GI Acres next year in a very similar format.  We will offer 10 shares.  Those will be offered first to our member from 2017 then to our 2016 members that may have missed us last year.  If we have any left we will offer them to the general public so if you have friends or family that are interested tell them to follow us on Facebook @urbanfarmadventures or on twitter @giacres and to watch this website.  We don't know the pricing for next year yet but will let you know as soon as we determine what we need to charge to come out ahead or even on this venture.  Last year new shares were $300, it is likely that price will increase for 2018.  We may offer a short season share in July and August with a weekend pickup but haven't decided on that yet.  If you would be interested in the short season of summer foods (green beans, Swiss Chard, summer squash, tomatoes, potatoes, cucumbers) let me know.  This would help us keep thing picked and insure that we have a market for the produce.
Our pantry and freezer are full of the produce from this season and we will be able to enjoy the fruits of this summer all winter long.  I am already starting to see catalogs for next year….
Our last share of the year should have been on September 27 with any bonus shares, because of good weather beginning in October.  But we needed a vacation and had the opportunity to visit Kathy's sister in Atlanta at the end of September and beginning of October so we moved the final pickup from the 27 of September to the 8th of October.  The first week of October was very rainy.  We got more than 6 inches of rain.  While that meant that Keith and Joanne (Kathy's parents who were staying at the house and caring for the animals and collecting eggs) did not have to worry about watering the garden it also meant that the tomatoes got too big too fast and were splitting by the time we picked them.  They were not really pretty this week.  We did pull carrots though (the carrots came out really easily in the damp soil) and harvest spaghetti squash for everyone. We also through in half a dozen eggs.  The chickens have been producing well and we were starting to get over run.
We are hoping to have one final (bonus) pickup on October 18th if the weather holds.  The night of October 10 the temps dropped to about 32 degrees but we kept the water on all night and the basil did not even get kissed with frost.
This has been a really good year.  The response from our members has been very positive.  I have had a couple of people contact me about starting CSA's in the area, one of them hopes to include a meat share.  I think there is plenty of market for the CSA model in our area right now.  We are planning to continue with the CSA next year, though many long term CSA's across the country are beginning to fold up.  Most of those are people that are doing it full time and have reached the point where they can no longer continue to afford the CSA lifestyle.  I say lifestyle because for many of them they would have made more money working a minimum wage job than they did producing healthy food for their communities.  We are in a fortunate situation.  Our CSA is not a vocation it is an avocation.  We are not really looking to expand.  We want to limit the number of members to what we can handle; at this time that is 10.  We have talked about adding a short season during the high production time with pickup on a different day.  This would hopefully give us a market for tomatoes, greens, green beans, etc… a second time during the week.  We wouldn't have to add to the garden but would be able to pick a couple of times a week and the veggies do just keep coming.
We are coming to a close for the season.  I anticipate that we will only have one more week this year.  Maybe 2 but that will be dependent on the weather.  There is no pick up next week but the last will be Sunday October 8.  This week included melons and winter squash.  We also included fall decorations, gourds, pumpkins and corn shocks.  Food is the primary purpose of a CSA but beauty, (flowers and decorative items) is also a part of the contract.  We truly want people to connect to nature and we connect by what we eat and by what we see.
Tomatoes, Potatoes, Green Beans and Herbs
The season is almost done.  Just a couple of more weeks.  We had a nice share this week.
Thing have been a little tough this last week.  Chad had surgery last week to repair an umbilical hernia that he did not know that he had.  No lifting for the end of the season.
What do you think is the biggest advantage of growing your own food or supporting a local grower?
For me, I think this picture sums it up.
When you buy real food you know that it is real. It is obvious.  When your advertising hook for your food  is that it has real spices it makes me think there must be some unreal things in that product as well.  I hate to spend real money on unreal food.  Kathy took this picture at a local grocery store.
Week 15 of real food included:
Tomatoes
Green beans
Cucamelons
Collard Greens
Swiss Chard
Onions
Summer squash/zucchini
Potatoes
Basil
Choice of Beets, Okra, Tomatillos, Cabbage
As an added bonus everyone had the opportunity to get a dozen eggs by bringing us an egg carton.
The weather is getting colder, the nights are coming faster and the sun is not up as early.  The season is winding to an end.  We have just 3 more pick up days scheduled for the year and it will be over.
We have been canning, freezing and dehydrating so that we can enjoy the fruits of our labors all winter.  The larder is filling up with all kinds of good things.
Over the last few weeks Chad discovered that he had an umbilical hernia.  A trip to the emergency room and a follow up trip to the surgery center have cured that but the next few weeks will not involve much lifting.  Hard to do when even moving the hose for irrigation is beyond the limitations.  Some of the winter squash might even be too heavy.  The little honey nut butternut squash won't be too heavy though.
We are closing in on Labor Day.  The bush beans are looking like they are about done and the winter squash are starting to get some color.  The Nebraska State Fair is in full swing and Kathy and I both got ribbons on some of our entries.  I entered dehydrated tomatoes and shredded zucchini.  Kathy entered her green tomato curry, 4 spaghetti sauces and a hot pepper jelly.
It was a busy week for many of our members.  We had 4 members contact us that they would not be picking up their shares.  I'm not sure if the shares are so big this time of year that they can't get them used or if they were just busy because of the fair.  I know at least
2 were busy because of the fair. We gave away one share and canned and dehydrated a bunch of the tomatoes many like the one above
I picked one of the Wisconsin Orange Flesh Honeydew.  It has a nice flavor and is very pretty.
Here are pictures of the Week 14 share.  Only 4 more weeks this year.  Where has the time gone?
Monday we celebrated the eclipse.  It was incredible to be in the path and we had 52 people at GI Acres celebrating with us.  Thank you to everyone that was able to be here.  Kathy and I also took our State Fair entries into the fair.  I entered dehydrated grated zucchini and dehydrated tomatoes,  Kathy entered 4 spaghetti sauces, hot pepper jelly and green tomato curry.  GI Acres produce hopes to take some ribbons in these competitions.
We are full into summer production and this week's share shows that.  We did skip the summer squash this week and no one seemed to care.  It means there are plenty for the chickens.  The weather has been great.  We got over 3 inches of rain one night.  August has been particularly wet this year.
Tomatoes, Green Beans, Eggplant and Summer Squash.  We are in the heart of summer production and the garden is treating us well.  The weather has cooperated and we haven't had major issues with bugs. Keep your fingers crossed.  The hardest thing is getting all of these posted.  I am posting this almost 2 weeks late but I will blame the Eclipse since we had to clean the house and had 52 people at GI Acres for the eclipse.  Competing interests can be an issue.  The other factor is that we don't have lots of similar things in the shares now.  Summer provides diversity of product.  In my mind the difference between Roma and Early Girl tomatoes is not as important as the difference between Kale and Swiss Chard.  If you disagree please provide feedback to that end.  The shares are getting really big and people are taking 3 bags home.  That is really fun to see and very satisfying.
Our veggies were not as blemish free this week.  We got a bit of hail on Friday night last week and it dented up a bunch of things.  The tomatoes are coming in strong and the beans and cucumbers are slowing down. Some of the summer squash and zucchini plants are on their last legs.  We need to replant so we have some for the end of the season.  The winter squash are starting to get ready and we have a bunch of pumpkins that volunteered this year.  This week we had: sweet corn, tomatoes (more than 12), a cucumber, kale, eggplant, summer squash/zucchini (3 each), spaghetti squash or Lakota squash, choice of okra or beans and basil.  We cut open a water melon to share but it was under ripe so we fed it to the chickens and rabbits.  The colors of summer are strong in the share this week.  Over the last tow week we have also included a dozen eggs for each member as a bonus.  Half our members got a dozen last week and half got a dozen this week.