Archive for the 'Uncategorized' Category
This was a green share.  Lots of herbs and spring greens.  Mustard, Spring Rapini, Flat Leaf Parsley, Oregano, Dill, Mint, Radishes, Green Onions, Green Garlic, Mixed Salad Greens, and Garlic Scapes.
We kicked off the 2017 CSA season tonight.  All of our members showed up on time.  Thank you.  The attached pictures are from our first share.  We did include eggs this week.  Eggs are not a given.  We only have 3 hens producing eggs at this time so we only get 2 or 3 a day.  We do have a bunch of young hens that will hopefully start laying soon.   The share this week included Popcorn (from last year), Mustard Greens, Green Garlic, Green Onions, Mint, Oregano, Dill, Chives, Rhubarb, 6 Eggs, Bean Sprouts, Daisies, Choice of Pak Choi, Spinach, Bib Lettuce or Mixed Greens and Edible Flowers.
The second week of October we ended our CSA season.  For 20 weeks we had baskets of food ready for each of our nine members.  It was our intent to sell 10 memberships and we sold nine.  Attached are pictures of the shares from each week.
We plan to offer 10 shares again during the 2017 season.  We have not yet set the price for the 2017 season but it will be more than we charged for the 2016 season.  2016 members have priority for the 2017 season but if you are interested in participating send us an email or give us a call.
Recent debates over food system ethos and terminology missed a key step: what do these terms even mean?
Once you've been bitten by the urban homesteading bug, there's no cure. For real. When John and I started our teeny, tiny little garden and first documented it on The Sustainable Couple, we had no idea what we were doing. Fast forward 5 years and we've gotten ourselves together. We also have backyard chickens, 6… Read More »
Source: 10 things you won't do after becoming an urban homesteader – Homegrown & Healthy
A nice video explaining what a CSA is and how it works. We won't be planting tomatoes with a tractor.
Groundhog Day of 2016 will be memorable.  They said winter storm Kayla might just lay into us and yes she did.  At noon the official snowfall for the day in Grand Island was 14.9 inches.  Winds blowing with gusts up to 53 miles per hour.  This is our first real snow storm at GI Acres and the drive way does drift.  Also had a 4 foot drift in front of the shed door.  The 48N pushed the snow out of the way of the shed door.  I'm hoping later that I will be able use it to clear the drive.  Started on the drive with the snowblower and it ran out of gas, hence the trip to the shed.  That is where the extra gas is.While I was there I started up the tractor then decided I should see what kind of a job it does on the snow.  Wandered back to the house with the fuel and Kathy had beef barley soup ready for lunch.  I think I will wait for the snow to stop before heading back out. #kayla #snowmageddon16
These pictures are taken one day apart.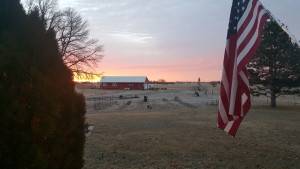 Morning February 1, 2016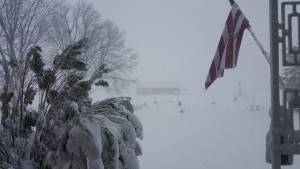 Morning February 2, 2016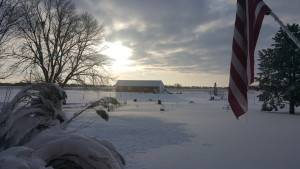 Morning February 3, 2016
So what is the difference between a food basket service and a CSA?