Archive for the 'Uncategorized' Category
A combination of the weather and our travel schedule has kept us out of the garden and put us a bit behind.  We got all of our plant in the garden over Memorial Day weekend but we still have seed to plant.  The weekend was really hot (record setting high temp and record setting high (low) temps).  It was over 90 degrees all three days of the weekend right up until the downpour on Monday afternoon.  We did get a lot accomplished just not as much as we hoped.  It looks like the first week's share will include fresh herbs (chives, green garlic, mint, oregano, sage and maybe some others) fresh greens (Salad, Mustard, Chard). winter onions, rhubarb, eggs (if we can get cartons) and radishes.  We might even throw in some young horseradish root.
We finally got to spend a day in the garden.  Between the weather, holidays and travelling it has been slow this year.  The weather this year has been frightful.  The first potatoes went in on Good Friday and we got snow for Easter.  Then we had snow or ice every weekend until the end of April.  Kathy got two new colonies of bees installed on April 18th.  We were worried that it might be too cold for them.  We left the next day for New Orleans.  Chad was attending and speaking at the American Planning Association conference.
The weather turned gorgeous while we were gone.  The last weekend of April we picked up the first of our plants from Barb's Greenhouse in St. Libory.  We got 3 kinds of cabbage, (golden acre, kalibos, and murdoc) and 3 kinds of broccoli (romensco, purple santee, and happy rich).  The last two are more sprouting broccoli than heads of broccoli. We also picked up leeks and shallots and a few other random plants.
We started laying out the garden and put in fence for peas and beans and planted the cabbages and peas on Saturday. Kathy also checked on the bees and discovered that while they were doing fine and the  Sunday we hope to get the broccoli, leeks and shallots planted.  We also have a couple of apricot trees that need to get in the ground.
We do still have 2 full shares available and 4 short season shares if you know anyone that would be interested. Send them to our signup page.
Check out the cool chives video from the lyrical chef MackaB.  We will post other videos by him and you can subscribe to his Youtube page if you like them.
We do still have shares available for the 2018 season, both full shares and short season shares.
We are coming to a close for the season.  I anticipate that we will only have one more week this year.  Maybe 2 but that will be dependent on the weather.  There is no pick up next week but the last will be Sunday October 8.  This week included melons and winter squash.  We also included fall decorations, gourds, pumpkins and corn shocks.  Food is the primary purpose of a CSA but beauty, (flowers and decorative items) is also a part of the contract.  We truly want people to connect to nature and we connect by what we eat and by what we see.
We are closing in on Labor Day.  The bush beans are looking like they are about done and the winter squash are starting to get some color.  The Nebraska State Fair is in full swing and Kathy and I both got ribbons on some of our entries.  I entered dehydrated tomatoes and shredded zucchini.  Kathy entered her green tomato curry, 4 spaghetti sauces and a hot pepper jelly.
It was a busy week for many of our members.  We had 4 members contact us that they would not be picking up their shares.  I'm not sure if the shares are so big this time of year that they can't get them used or if they were just busy because of the fair.  I know at least
2 were busy because of the fair. We gave away one share and canned and dehydrated a bunch of the tomatoes many like the one above
I picked one of the Wisconsin Orange Flesh Honeydew.  It has a nice flavor and is very pretty.
Here are pictures of the Week 14 share.  Only 4 more weeks this year.  Where has the time gone?
Sorry this is so late.  This week it is more helpful as history rather than for our members to be able to remember what everything is.  There weren't a lot of confusing greens this week though.  This week saw the first real move into the summer veggies with corn, tomatoes, and beans. It is hard to believe that we are half way through the season.  The garden has been bountiful and we have been blessed.
Since last week we have had more than 4 inches of rain.  It has been great for the garden but we did have quite a bit of wind that blew over the corn and green beans.  It looks like we they will recover.
This week we had potatoes, green beans, Asian long beans, lettuce, cucumbers, beets, egg plant, summer squash, a choice of turnip greens, Swiss Chard or collards, and choice of okra or peas.
We are moving into the summer crops.  This week's share included a lot of summer squash and our first green beans.  Not everyone got green beans but next week I think everyone will.  We had to pull a second table out of the garage to put all of the veggies on.  We had 2 kinds of lettuce and 2 kinds of cabbage.  Our garden cabbage was really yummy.  The Napa cabbage turned out nice too.  If you didn't get Napa you could choose baby beats.  Everyone got radishes including black Spanish and Daikon.  If you didn't get green beans you could choose peas or potatoes.  Everyone got basil, Swiss Chard, Fennel, Leeks, Garlic, Cucumbers and Basil.  The other choice was between egg plant, okra and turnips.  God has blessed us a with productive garden this year.  We are getting rain right now and if there isn't any hail it should continue to thrive.
We are starting to see the transition from Spring to Summer.  The cold crops are slowing down.  This is most likely the last week for peas and the mustard and spinach have bolted.  We still have lettuce and the Swiss Chard is doing great.  There are lots of green tomatoes, the beans are blooming and we have picked a few small eggplant and summer squash for our own use.  We don't have enough for a share but they should be starting soon. This week we included Fennel again and should be able to include it 1 or 2 more times.  We took pictures with the Kale, Mustard and Swiss Chard all in the same picture so you tell them apart.  Mint and Oregano were the herbs of the week but if you need more Dill just ask we have plenty.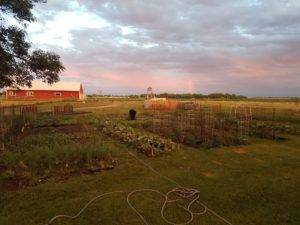 Beautiful day today June 17, 2017.  I mowed around the garden and mulched the early sweet corn with grass clippings.  Kathy picked pod peas, weeded and thinned the carrots and then pickled little carrots.  The chickens and rabbits enjoyed the tops.  I spent a lot of time weeding and then planted a bunch of our left over tomatoes, peppers and eggplant.  (Note for next year just get 25% more in plants than you think you need not 100%.)  Barb's Greenhouse did a great job starting our plants for us and we are thrilled as long as they are willing to start plants for us we will be using them!
I planted 30 more tomato plants, 22 peppers and 6 more egg plant.  We still have some plants if anyone wants them but we are not going to plant any more.
We don't have enough cages for these extra plants but are going to buy stakes and try the Florida Weave.  Watch the video it is really cool.  This would take a little more work but stakes are easier to store than cages. 🙂
The garden is looking really good.  Weeds are under control and we haven't been hit with hail yet.
Last week we planted more sweet corn so hopefully we will have 5 or 6 weeks of corn for everyone.  Probably only 4 or 5 ears but that is at least one meal.
Thank you for joining us in this adventure.