Archive for the 'Garden 2017' Category
This was a green share.  Lots of herbs and spring greens.  Mustard, Spring Rapini, Flat Leaf Parsley, Oregano, Dill, Mint, Radishes, Green Onions, Green Garlic, Mixed Salad Greens, and Garlic Scapes.
Palm Sunday weekend we began to plant.  The weather was great and the soil was getting warm.  We planted Carrots (Royal Chantenay, Rainbow Hybrid, Cosmic Purple and Purple Haze), Chard (Rainbow, Ruby  Red and Rhubarb), Spinach (Giant Noble, Escalade Hard), Peas (Oregon Giant Snowpea, Garden Pea Now and Later, Dwarf Grey Sugar), Onions (red and white), Potatoes (white, pink and purple fingerlings)  and Mustard (Florida Broadleaf, Southern Giant Curled). Two weeks later that are all looking great.  We have plants growing where we planted seeds.
In the last couple of weeks we have added leeks, onions, lettuce (Butter Crunch, Black Seeded Simpson, Grand Rapids, Ithica Head Lettuce), Kale (Red Russian, Winter Wonderland Mix), Pok Choy (Toy Choy), and Chinese Cabbage (Hilton)
Biggest News for the Week:
We have sold all 10 CSA shares this year.  We have several new customers and some returning ones.  At least 3 of the new customers are from posting a classified ad on the Nextdoor Neighborhood App.  It is a great communication tool for neighbors and it really helped sell our last few shares and at no cost to us.
A Bit of Work in the Garden:
After a week of cold wet and rainy weather (not at all unusual for the end of March), we had a beautiful Sunday.  Kathy and I planned ahead and went to church last night so we could work on the garden and other projects today.  We did not get anything planted yet.  I want to run the tiller through the garden one more time before planting.  The weeds are starting to pop up and the tiller will make short work of them.  Of course that means I need to get it back from Sears repair first.  It should be done tomorrow.  They got the part in on Tuesday last week.  I did get some work done in the garden though.  I got the fences put up for the pole beans (blue lake and Asian long beans) and for the sweet peas (Now and Later, and a couple of other kinds).  We were hoping to get some of the greens planted today but ran out of time.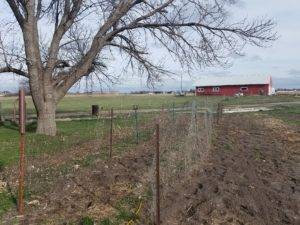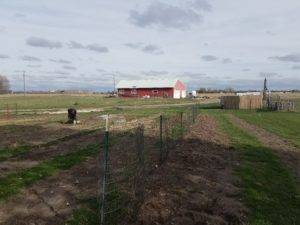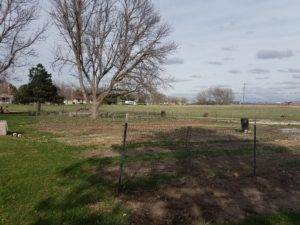 Other Projects:
We put bird netting over part of the chicken run today.  This is where we will put the young chickens.  We have 12 more of them (6 hens and 6 straight run) Cuckoo Maran, Silver Leghorns, Barred Rock, and Silver Laced Wyandotte.  Hopefully it will protect them from the hawk that has been patrolling the neighborhood.  We also need to plant potatoes and greens this week and maybe some broccoli rabe.
Lots of activity at GI Acres.  We took seeds to Barb's Greenhouse in St. Libory this weekend.  Bard will be starting all of our plants.  They have a great setup and hopefully this works out better than what we did last year.  Barb will be starting more than 400 plants for us.   Tomatoes, Peppers, Melons, Squash, Brussels Sprouts, Cabbage, Broccoli, Fennel and Egg Plant.  We will have a wide variety of shapes and colors of tomatoes this year.  If you need some plants this year look her up either at the green house or at the farmers market at Orschelns.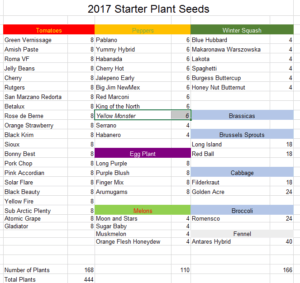 The newest of our chickens are getting big.  We have 12 new chicks this year.  At least 6 of them are guaranteed to be pullets.  We are hoping for 9 pullets.  They will be moving outside to temporary quarters next to the others soon.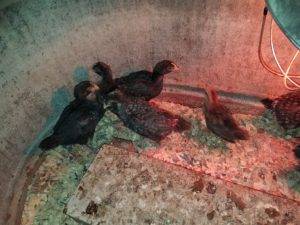 In a couple of days we will have been at this place for 2 years.  We knew we wanted to grow a variety of perennials, including asparagus, strawberries and rhubarb. All of those are coming up and looking good.
In the next week we will be planting potatoes and peas.  We bought 20 lbs of seed potatoes and have left overs of fingerlings from last  year's stock.
As of today March 19th we have sold 7 shares for 2017.  We still have 3 shares left for the next year and are still hopeful that we will sell all of them.
What does anyone need with 1000 corn seeds? Kathy and I have been combing through seed catalogs since they started arriving in late November.  Today we sat down and placed our orders.  We ordered from 6 different companies (I think we have catalogs from 12+).
We ordered from Burpee, Gurneys, Farmer Seed and Nursery, Jung Seeds & Plants, Baker Creek Heirloom Seeds, and Sow True Seeds.  If all goes according to plan this year we will have 20 different kinds of tomatoes 12+ peppers, 11 summer squash and 11 winter squash, 4 kinds of sweet corn, a variety of beets, radishes, turnips and carrots,  Several kinds of lettuce, along with Swiss chard, collards, and mustard greens.  Four kinds of sweet corn that we plan to stagger with 2 or 3 plantings so we have corn for at least 6 weeks.  Green beans, spotted beans, long beans, peas, cucumbers, melons, and more.
In addition to the seeds we ordered a variety of fruit and nut trees to add to the orchard.  This year we also added grapes.  I haven't pulled the trigger on hops though.  Our perennials production plants and trees are expanded every year.
We still need to get onion sets and potatoes but will likely buy those locally to save on shipping costs, especially the potatoes.  Those things are heavy.
The weather has been perfect for cleaning up the garden and getting things ready for next year.  We planted the first things on February 12.  Okay, we planted lettuce, mustard and bok choy in the cold frame I built last year but we did get to plant.  This weekend with 70+ weather I tilled the garden.  I think we need to call for service on the tiller though, the tines don't spin in reverse, I think something slipped or broke.  Glad it is under warranty.  We decided that we needed to add one more strip of garden at the southwest side of the garden closer to the big pine tree and that we should eliminate the grass strip between two of the strips toward the northeast side of the garden like we did in the middle last year.  This allows us to have several rows that
are about 12 foot long that run from northeast to southwest instead of just long rows running from the northwest to southeast.  Hopefully the combination works.
You can see the new layout here.  We are trying an online garden planner (Grow Veg).  So far I really like it.  Hopefully it will stick around so that we can continue to use it in future years so we can manage our crop rotations.
This year we plan to have rhubarb, strawberries and asparagus early in the year.  Our first pickup should be in late May.
We think we may have found a source for wholesale plants this year and it looks like they will plant our seed so we will even have the varieties we are hoping for.
You can view our CSA member agreement here: GI Acres CSA Member Agreement 2017.  Please return this with your order.
If you want to update your 2016 membership and claim your 2017 membership or if you want to join up today for the 2017 season click HERE!  Below you can see pictures of our 2017 shares.