If you are hoping to find a CSA share for this year we still have both full season (June through Sept every Wednesday) for $425, we just a have a few left, and short season (6 weeks on the weekend between mid-July and mid-Sept) $180. You can sign up here http://giacres.csasignup.com/members/types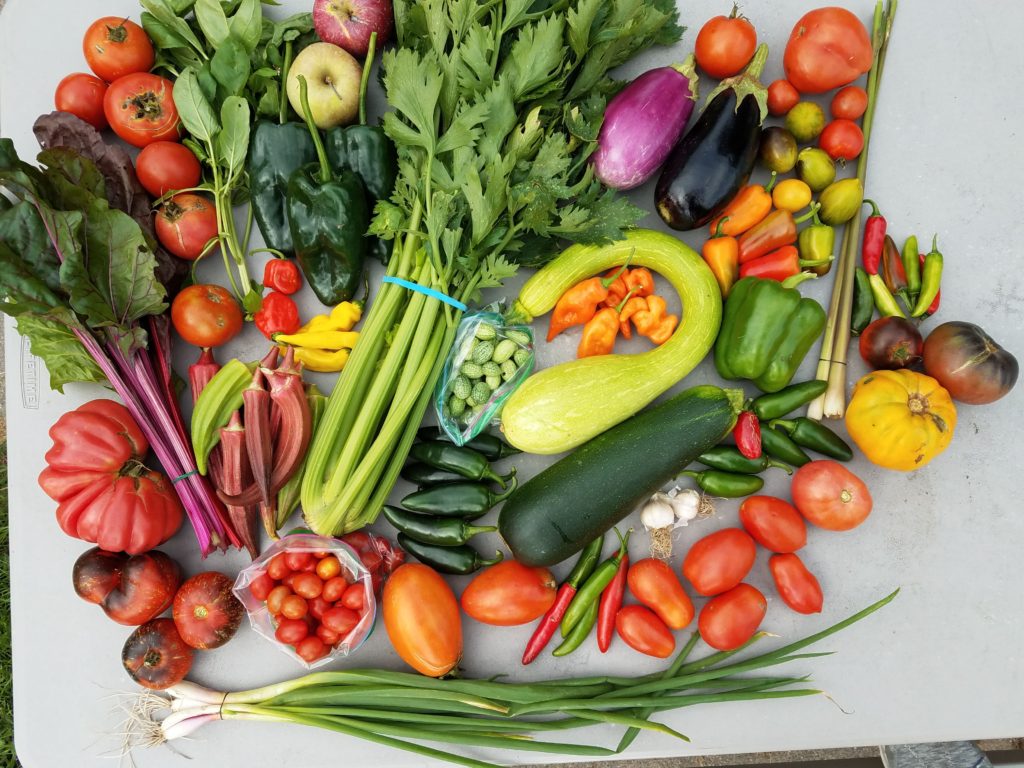 I like to call what we do Urban Farming. The truth is that we live in a community of 50,000 people and have an acreage on the edge of Grand Island. We live on a suburban acreage. We play at farming and enjoy running our CSA but both Kathy and I have full time jobs and we are not supporting ourselves or our family with our farm. The first week of May we visited The Urban Farming Guys in Kansas City MO.
The are a real urban farm located in a first ring suburb of Kansas City just 1.9 miles from downtown KC. They bought their first house in the neighborhood 10 years ago for $21,000. They have continued to buy other houses, buildings and lots in the neighborhood. They operate a green house and urban farm. They have had a CSA and have a community room and maker space. We rented two of their houses via AirBnB for a weekend to celebrate my nephew's high school graduation. Candy was gracious enough to give us a tour of the green house and farm. The Urban Farming Guys have a great YouTube Channel check it out. If you are traveling to KC look them up on AirBnB it was a great experience.
We are starting to feel the pressure of cold rainy weather and to many activities that pull us away from the home over the weekends. We thought about buying a seeder for years but this year I broke down and bought an Earthway Seeder. They had one at Ace Hardware here in Grand Island. The best part is that it was even $30 off.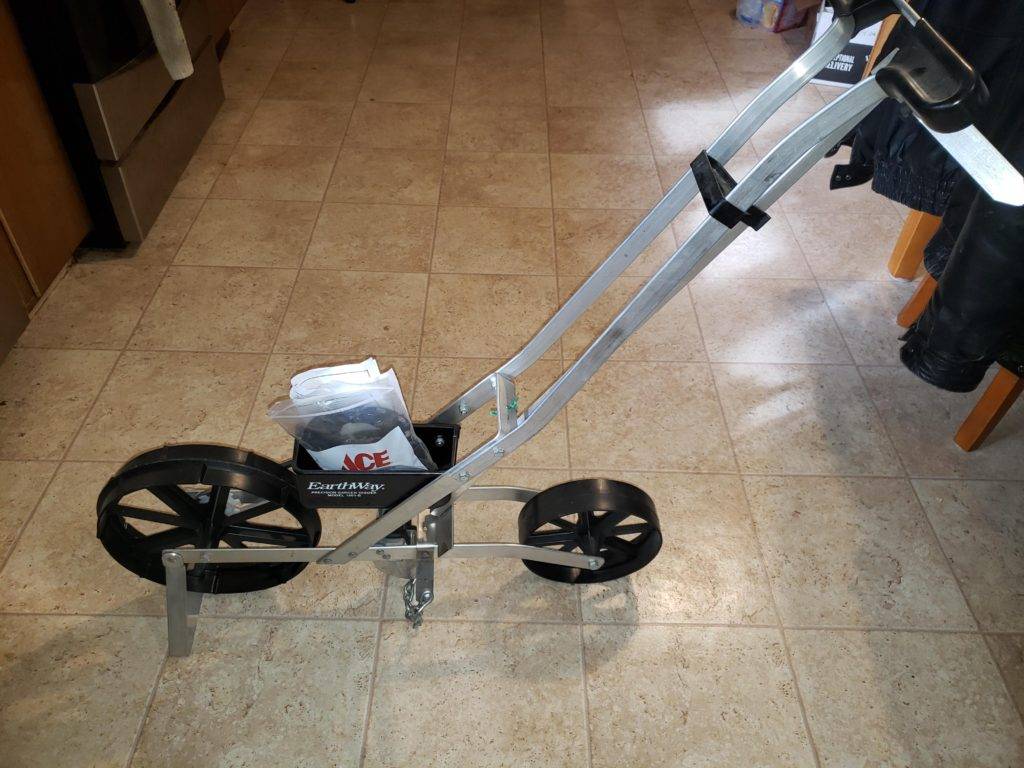 Here's to hoping that this helps us get things planted when it dries out a bit.
Week 1

Week 2

Week 3

Week 4

Week 5

Week 6

Week 7

Week 8

Week 9

Week 10

Week 11

Week 12

Week 13

Week 14

Week 15

Week 16

Week 17

Week 18

Week 19
We plant a wide variety of crops. You will start the season with cool weather and spring crops: Lettuce, greens (chard, mustard, spinach, collard), radishes, garlic scapes, rhubarb and winter onions. During the warmer months you can expect green beans (several varieties), summer squash, greens (chard, mustard, spinach, collard) , herbs, cabbage, onions, new potatoes and fennel. The summer crops will continue some of those above and add in tomatoes (last year we planted 39 varieties), peppers, egg plant, garlic, celery and sweet corn (we don't grow it but buy it from a local producer). As we transition in to the fall months we will still have tomatoes, peppers, egg plant, onions, potatoes, greens (chard, mustard, spinach, collard) , maybe green beans, and add in winter squash, popcorn (if the squirrels don't eat it again this year), horse radish root, apples, and maybe pumpkins or corn shocks for decoration.
In 2019 there will be 18 Wednesdays between June 6, 2019 and October 2, 2019. We plan to have at least 18 weeks of shares but we could have as many as 20 if we have things ready for the last week of May and have a final pick up after October 2. This last 2 seasons we have had a last pickup in mid-October. The cost for a full season share is $400. The full amount has to be paid by March 1 to secure your spot. If you are a returning member we do offer a 10% discount if you sign up and pay by February 16.
The Short Season share is similar to the Full Share but does start later in the summer and only includes 6 weeks. We plan to start it in July and end in late August or early September. Shares will not be available every week depending on our schedule. Short season shares are $150 and available on Sunday afternoons.
If you are worried that you won't be able to use everything, and this can be an issue, you can always find someone to share with or donate the extra.
You can pick your season and sign up by following this link: GI Acres CSA Share Types.
CSA Day is on February 22 of 2019. If you are a returning CSA Member we are offering $40 off of a full membership if you sign up before February 16. A full membership will be $400 after that date. We will be offering 10 full memberships and 6 short season memberships again this year. Full memberships will be approx 20 weeks from the first of June to the end of September. Short season will begin in July and end in September and include 6 pickups. Short season shares are $150.
The first new potatoes and onions were part of the share this week.  We had herbs and greens as well.  Also everyone got a share of edible pod peas.  The lettuce is doing well and we had enough for everyone.
We added a few choices this week with baby zucchini and edible pod peas.  If you weren't here early though you did not get that choice we only had 2 of each. Everyone else got broccolini. Hopefully next week we will have enough for everyone.  Everyone got a nice Golden Acre Cabbage.  Kathy and I had coleslaw made with one on Wednesday for lunch and it was yummy!
This week the share included Cabbage, radishes (we pulled them all as they were starting to bolt), mustard greens, salad mix, baby Swiss chard.  mint, oregano, chives, garlic scapes, rhubarb, onions, baby dill, and a dozen eggs.
Several people asked about what to do with mint.  Here are some ideas that don't include lamb or mint juleps  https://www.delish.com/cooking/g1130/mint-recipes/  One of our favorite ways to use it is to make a mint chutney for Indian food.  1/2 an onion, 1 jalepeno (leave the seeds if you want it hotter), 1/4 to 1/2 cup packed mint (you can pull it out of the freezer for this) mixed in the food processor until pureed. Add 2 tablespoons of lemon juice and ketchup equal to the volume of the original ingredients.  This is great on samosa's or pakoras.
We have green beans setting  on and are hoping to have enough for each share next week.  We will also likely have a bunch of peas and hopefully potatoes.  It will also likely, be the last week for the garlic scapes.
The weather the next few days will be approaching 100 degrees so we are watering heavily in the evening.  Everything is hold well so far though.